We have a great experience in the implementation of contextual marketing solutions based on Beacons.
Our marketing suite is the solution for numerous points of sale.
A powerful tool for your acquisition and retention strategies, to connect the digital world to the "real" world.
How does it work ?
#1 The user comes within range of the beacon
A potential customer with a smartphone passes within 60 m of the place where the beacon has been installed. They have previously downloaded a mobile app containing the Duhokotu eMarketing Suite SDK.
#2 The data is sent to the Duhokotu eMarketing Suite
The beacon ID, app ID and the user profile are sent to our platform. The beacon's ID enables us to associate the user with a physical location.
#3 The data is processed and a result sent to the smartphone
The data is processed by the platform. According to the campaigns, the beacon, the app installed on the smartphone, a "result" is sent to the user's smartphone.

The result can be a notification accompanied by a message in the app. A message made up of texts and/or images and/or links towards YouTube videos.

However, the result can also be a parameter that triggers an action by the app itself or that signifies that the localisation, in relation to the physical installation point of the beacon, has been recorded.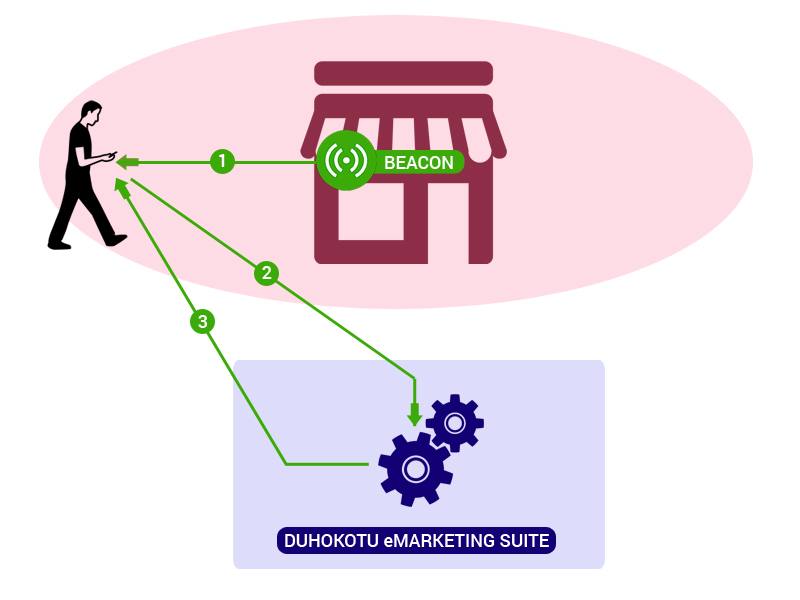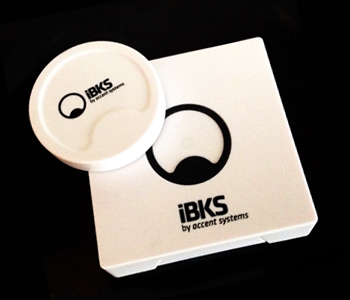 What are beacons ?
Beacons are small "Bluetooth" transmitters that can be placed in fixed locations or on a movable object.

They transmit radio signals that your smartphone can receive and interpret at close range.
A FEW FEATURES
Marketing Suite V7.3
RICH MESSAGES
You can send text, images, and You Tube video links within a single message, which can be shared on social media.
TRIGGERING ACTIONS
When entering a beacon's range, parameters are sent to the APP triggering an action (e.g.: increase the points of an affiliate program, etc.).
LOCALISATION
You can locate anyone passing near beacons. You can also locate anyone in-store, with 3 levels (near, medium, and far).
MULTI-NETWORKS, MULTI-APPS
A single beacon can transmit different messages via several different applications and/or several networks. Based on the user's profile, the beacon will send the right message, to the right person, at the right time, and at the right place.
GENERATION OF OPT-IN CONTACTS
APP users have the option of registering with their areas of interest and giving their authorization for other types of communication (Newsletters, etc.).
POWERFUL TARGETING
Based on the user's profile, locations, times, etc.
SDK FOR YOUR APPS
Easy to integrate into your APPs, iOs, and Android. Duhokotu will provide an SDK that includes libraries, a sample APP, and documentation for your team using the latest technology such as Swift for iOs.
PERSONALIZED ADAPTATIONS
Build bridges with your CRM, develop your APPs....The Duhokotu team can develop specific solutions for you.
Contact Us